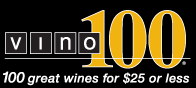 Newburgh, NY
SITE NAVIGATION
NEWSLETTER SIGN-UP
STORE INFORMATION
A New Concept in Buying Wine
The Vino 100 Wine Barometer will change the way you choose wine based on Flavor and Body. Our Wine Barometer is based on a series of tests by wine experts to help you find the perfect wine for your taste buds!
Click here to learn more!
A New Way to Buy Wine ...
Simply ... Based on Flavor and Body
We make the wine buying experience
as enjoyable as the drinking.
So many of us enjoy wine. How often, though, do we experience the frustrations of buying wine? Wine stores are all too often intimidating, snobbish and expensive, or are designed as wine "superstores" where the quantity of wines is overwhelming and the quality of wines and the service provided is under whelming.
• Welcome to our Website •
Happy New Year! We have a great selection of sparkling wines!